Introduction
The jewels of the French
This site, entitled The jewels of the French, goes beyond French regional jewellery or French traditional jewellery. It explores, in fact, the affection the French have with their jewellery as well as all their other objects in gold and silver. The special relationship we all have with precious metals is due to their high value, which makes their purchase expensive, their reception as a gift a privileged moment and their detention a source of pride as well as a responsibility.

For their beauty, malleability and inalterability, gold and silver have long been sought after. Their high utility and demand in relation to their rarity ensured that throughout history their value has always been high. Platinum, however, was not isolated until 1741 and because of the difficulty in melting it, was worth a third the price of gold until around 1860. It started being regularly used in jewellery in Europe around 1900, though it had been occasionally cold-worked and employed in jewellery two thousand years earlier in South America. Platinum is generally worth a bit more than gold, though unusually for the last few years it has been worth 30 to 55% less than gold.
| | | | | |
| --- | --- | --- | --- | --- |
| The Gauls had excellent jewellers, and already by 1300 BC (at the time of Tutankhamen) made superb jewellery which was the equal of that of their contemporaries in Egypt, Greece or Rome. Very few of their jewels have survived as the Romans looted almost everything of value during their conquest of Gaul. | | solid gold necklace, circa 1200BC, found in the north of France. see details | | |











Medieval silver ring

Renaissance pendant in gold,
enamel and rock-crystal
Until the beginning of the 19th century, most French men and women didn't have a single piece of jewellery in gold, contenting themselves with perhaps a ring or two in brass or silver and souvenir brooches from pilgrimages in lead, brass or tin. Even the gold jewels from the start of the 19th century that today we call French Regional Jewellery were worn only by the richer farmers and merchants and were beyond the reach of the average person. In the sombre years following the French revolution of 1789, the detention of gold coins could even result in the death penalty. Around 1815-1830 with the Restoration period, there was a return towards a certain stability in France and some regions such as Paris, Normandy, Alsace and Provence saw their wealth increase to the point that more women could finally own some gold jewellery.

Transport across France was slow and costly at the start of the nineteenth century and as few people ventured more than a day´s walk from their home, there was little communication between the different areas of France. Each region, town even village had its local costume for the population which consisted of a dress or skirt, shawl, cape, blouse, apron and coiffe for the women and pants, shirt, vest, coat and working blouse for the men. Each region also had its own language or dialect; we tend to forget that as late as World War One a good number of the soldiers sent to the front spoke no French and the army was obliged to form regiments of Bretons or Occitanes to facilitate communication.

With the creation of the railway network around 1840, an inevitable standardisation imposed itself. A person from the provinces does not appreciate being considered as an item of folklore when he ventures outside of his region, nor to be exclaimed over by the ever more numerous tourists brought to his region by the railways, and thus the regular wearing of regional costumes had all but stopped by 1920.

In certain less prosperous regions of France, like the Centre for example, women hadn´t had the wealth to buy jewellery before their regional costumes died out, and therefore no jewellery unique to that region was able to evolve. We thus see the Jeannette crosses, usually made in Paris, adopted almost everywhere where there is no distinctive regional cross. In wealthier regions, such as Normandy, a multitude of crosses evolved, each subtly different from the next initially and then evolving in its own direction.

What has always fascinated me is that despite the disappearance of the French regional costumes, certain regions even today have maintained the tradition of women wearing their regional jewellery, and not just during fêtes and festivals but all the time. Although the magnificent Bosse crosses of Normandy are no longer worn along with the astonishing Rouen crosses and the Milanos earrings of Boulogne-sur-Mer, few women in Boulogne-sur-Mer today will part with their Lisbonne or their Love-knot rings. It´s the same with the Holy Spirit pendants of Aurillac, the enamelled jewels of Bresse and Limoges, the dévote crosses of Arles and the créole earrings of Martinique and Guadaloupe, still worn with pride today in their original regions.

I can still remember how frustrating it was for me, when I was gold buying in the hotels of Calais or Boulogne-sur-Mer, to see the women coming in to sell me their old jewellery, and there was never a Lisbonne or Love-knot ring among the jewellery for sale, even though these women were generally wearing one or the other. It was fascinating but oh so rare to come across a region where women still wore jewellery that was literally being passed down from mother to daughter. I was glad to be a witness to the tradition, however it took me many years before I succeeded in buying some of those regional antique rings from clients on the northern coast.





Lisbonne ring
northern coastal region





This site is (and always will be) incomplete though it is nonethless the most compehensive reference on French traditional and regional jewellery in existence today. I haven´t had the time to write text for all the categories, nor find and retouch all the photos planned for the French regional jewellery section. Thank you for your patience and help! If I ever get the time to upload all the photos I've collected over the years, this site will become a useful reference to document the everyday jewels of the past. If you pass your cursor over a photo, you can often read a more detailed description, giving the dimensions, weight, hallmarks and origin of the item. However, these detailed descriptions don't usually appear on an iPad or smartphone......Some of the photos, especially the larger ones, look a bit blurry on the page, however you can enlarge any photo and see it in a much higher resolution by double-clicking on it (the website crashes if I let all the photos fill the page in high resolution!) I don't always have time to translate the new additions into English so you'll find the French version more complete and up to date. The photos in the French version have now all been calibrated to appear roughly life-size on most computer screens, this is not yet the case on the English version. Patience!

Please note that throughout this website I have used the English spellings for words such as jewellery, jeweller, aluminium, colour, valour, mould, rather than the American spellings, as they are more used internationally (dare I say more correct?). I apologise to my many American readers and ask them to kindly remember that English was being written and spoken while the Americas were still a twinkle in Columbus´ eyes.... ;-)

I hope with this website to share with you some photos of the jewels I've seen and handled and some of what I've learnt during more than forty years of passion for antique jewellery, coins and silverware. Although the emphasis of this website is on French regional jewellery, I've also tried to document the jewels that were purchased to mark the different events in people's lives, such as births, communions, marriages and deaths. And wherever possible, I have tried to show the common jewels. I particularly enjoy working with objects that have a history or a soul, and items made of precious metals have generally been bought and offered to mark special moments. The christening medal, communion cross, engagement ring and mourning bracelet; all these objects commemorate the important passages in our lives and have so much to tell us. I've negotiated the sale of collections worth over a million euros and yet I'm more touched when handling a simple faith ring in silver that must have meant so much to its wearer two hundred years ago. Over seventy-five million euros worth of jewellery have passed through my hands in the last eight years alone and the market has evolved considerably since I first started buying and selling antique jewellery professionally in Melbourne, Australia at the age of twenty before moving to England, the US and finally to France. I've had the good fortune to admire and negotiate the purchase of jewels in many hundreds of villages and towns throughout France and I've acquired a solid knowledge of the rarity and distribution of antique jewels and objects. Some of the jewels I've photographed and shown here are in prominent collections of regional jewellery while others are now in museums, and I thank the collectors and curators for allowing me to share their jewels with you. And some of these jewels have been melted and the only trace left of their ephemeral existence is their photo on this website.

I've always tried to keep my eyes and mind open and to learn from what I observe and what I research myself and whilst my thoughts and conclusions concord in most cases with the various references, both venerable and recent, my hands-on experience leads me to disagree in some cases and to make new connections, discoveries and conclusions in others. I've travelled almost a million kilometres buying jewellery in France over the years and I've seen with my own eyes where the regional jewels are to be found. I've tried wherever possible to attribute jewels to a particular region only if I've personally seen them coming from that region or if the hallmarks prove it, not because a label in a museum claimed it to be so. This internet site, updated every week or two with new photos, text and ameliorations, is the constantly evolving version of the book that so many have asked me to write (and it's free). I thus propose that you join me on a voyage through time and amongst the Jewels of the French.

PS! This site has taken well over a thousand hours of work to reach its present and still imperfect state. There is no advertising on the site, and there are no sales; it exists simply to share freely what I've learnt over the years with those who are interested enough to take the time to peruse it. It's an almost thankless task, so don't forget that links towards this site, photos, corrections, content and words of encouragement are always greatly appreciated! Mike F.
Gaulois and Mérovingienne jewels - Racinet - Le Costume Historique 1888
New book - Traditional French Jewellery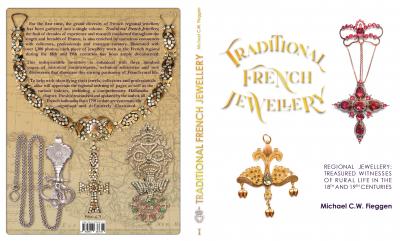 Book - Traditional French Jewellery - order here direct from the author
Dear collectors, auctioneers, dealers and jewellery lovers,

You have visited the site www.bijouxregionaux.com which for twelve years now has listed all regional and traditional French jewellery, without advertising and without sales. By popular demand, this website is now finally available as a book, much more complete and with many new photos and texts that are not on the site. I traveled more than 4,500 km in 2020 to visit the various collectors and museums of France and to photograph, weigh, measure and examine their jewellery.

Large format of 23.5 x 30 cm, 304 pages, hardcover and fully illustrated with over 1300 jewels in color, this book is the first complete book on French regional jewellery and corrects the many errors and gaps observed in the other references and presents other regional jewels hitherto unknown to the public. You will find eight full pages on Breton pins and fibulae and many other jewels in museums and private collections that are not on this website. Over four months of research has gone into making the chapter on hallmarks the most reliable ever seen - clear illustrations of hallmarks have been made especially for this volume. And for the first time, collectors will have access to a complete list of all the assay office symbols, small signs withn the hallmarks that identify in which city the jewellery was hallmarked. The opening and closing dates since 1798 of the hallmark offices are also listed for the first time, allowing, with the office symbol, to better date your jewellery.

The print run of this book is very limited, which is why I recommend you order early. You will love this book I have had nothing but compliments and many clients have ordered more to offer as gifts.

To order, you can send a wire transfer or WISE transfer to Michael Fieggen - FR76 4061 8803 9700 0403 3233 171 – BIC – BOUSFRPPXXX - address Mike Fieggen, 280 rue Saint Honoré, Paris, 75001 France

Bank or wire transfer by www.wise.com in Sterling – Account holder - Michael Fieggen
IBAN - GB68TSBS30916200184462 BIC / SWIFT - TSBSGB2AXXX

Sterling cheques and PayPal welcome to address demosthenesparis@gmail.com.

Any questions ? Contact me at bijouregional@gmail.com or by telephone at + 33 1 4015 9000


One copy in French €75 Postage and packing €9 for France, €8 for Europe and overseas

Two or more copies in French €75 each Postage and packing €9 for the lot in France, overseas postage €8 each

One or more copies in English £75 sterling each Postage and packing £8 sterling each