Book
Launch of the new book Traditional French Jewellery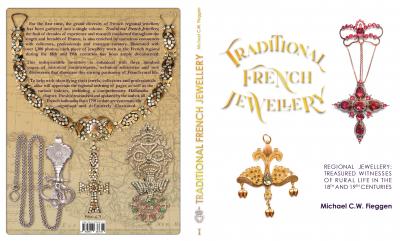 Book - Traditional French Jewellery - order here direct from the author
Dear collectors, auctioneers and dealers and amateurs,
You have visited the site www.bijouxregionaux.com which for ten years now has listed all regional and traditional French jewellery, without advertising and without sales.
Following public demand, this website is now finally available as a book, much more complete and with many new photos and texts that are not on the site. I traveled more than 4,500 km in 2020 to visit the various collectors and museums of France and to photograph, weigh, measure and examine their jewellery.
Large format of 23.5 x 30 cm, 304 pages, hardcover and fully illustrated with over 1300 jewels in color, this book is the first complete book on French regional jewellery and corrects the many errors and gaps observed in the other references while presenting other regional jewels hitherto unknown to the public. You will find eight full pages on Breton pins and fibulae and many other jewels in museums and private collections that are not on this website. Over four months of research has gone into making the chapter on hallmarks the most reliable ever seen - clear illustrations of hallmarks have been made especially for this volume. And for the first time, collectors will have access to a complete list of all the assay office symbols, small secret signs in the hallmarks that identify in which city the jewellery was hallmarked. The opening and closing dates since 1798 of the hallmark offices are also listed for the first time, allowing, with the office symbol, to better date your jewellery.
The print run of this book in English is very limited, which is why I recommend you order early.
To order, you can send a wire transfer or WISE transfer to Michael Fieggen - FR76 3043 8001 0040 0026 4978 472 – BIC - INGBFR21XXX. Address Mike Fieggen, 280 rue Saint Honoré, 75001 Paris. Cheques in sterling can also be sent to this address.
PayPal accepted with the account demosthenesparis@gmail.com
Any questions ? Contact me at bijouregional@gmail.com Telephone +33 1 4015 9000
Each copy in English £75 overseas postage and packing £9 per copy
Each copy in French €75 postage within France €9 total for one or more copies
Note that prices for the English version are in pounds, for the French version in euros.