| | | |
| --- | --- | --- |
| gold and garnet ring | Traditional garnet ring from the Languedoc Roussillon region | gold and garnet ring |
| | | | | |
| --- | --- | --- | --- | --- |
| | earrings in gold and garnets | | earrings in gold and garnets | |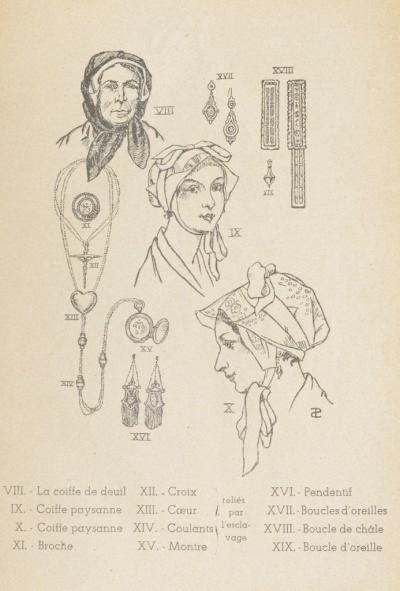 The Narbonne cross - tube-shaped and with three incised rings on each arm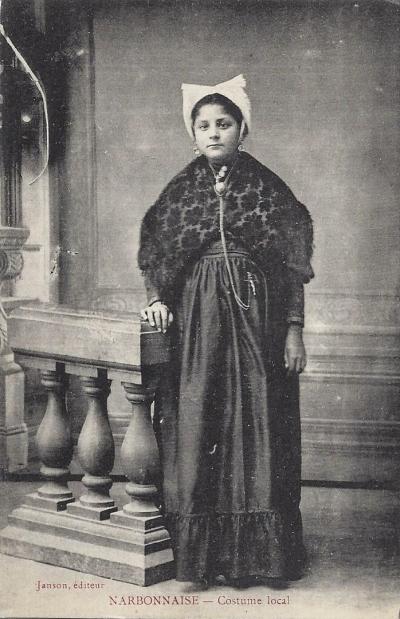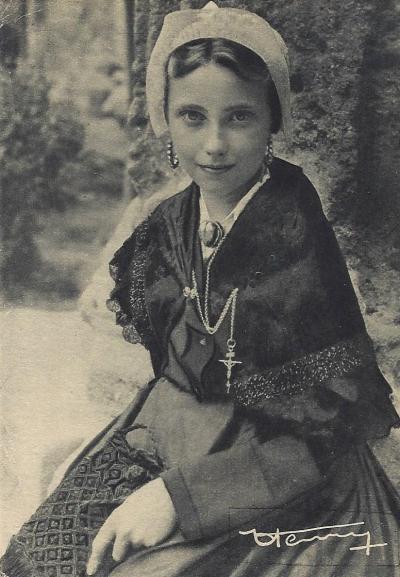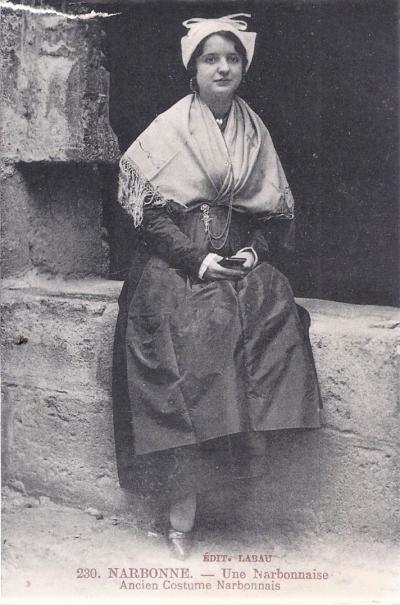 Narbonne traditional costume and cross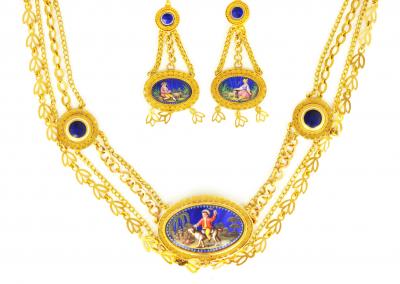 "Collier esclavage" (slave necklace) in gold and enamel with its matching ear pendants
These necklaces were worn in many regions, this one is illustrated here solely because it was found in the region and because it's so lovely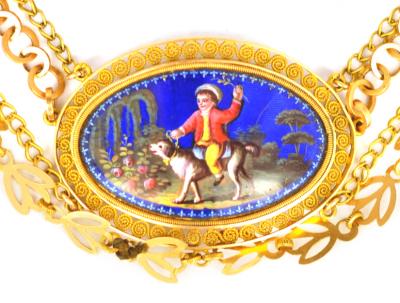 detail of "collier esclavage" (slave necklace) in gold and enamel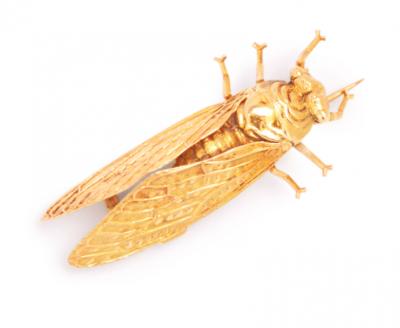 Cicada brooch signed by Guiraud, gold. The cicada is the symbol of the Felibrige association

| | | | | |
| --- | --- | --- | --- | --- |
| | | "poissarde" ear pendants in enamelled gold, collected in Nîmes | | |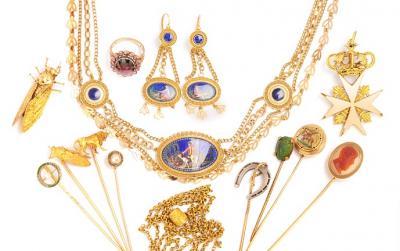 collection of jewels belonging to a family in Languedoc Roussillon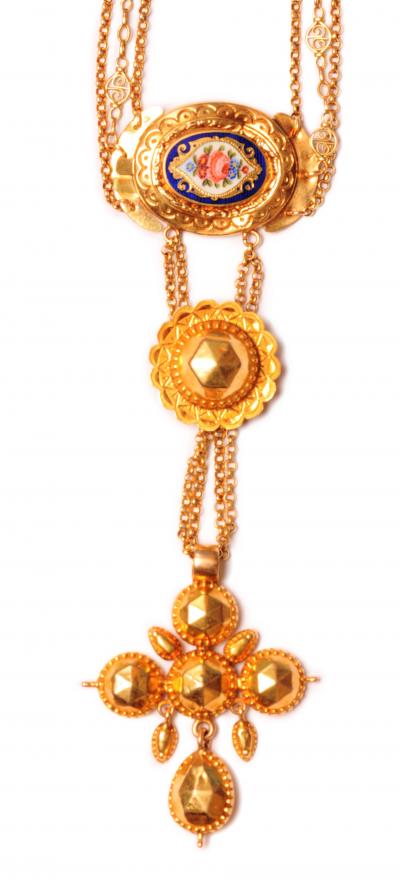 gold badine cross from the Tarn with its enamelled slide
The badine cross of Tarn or Castres cross is composed of four half-spherical and faceted elements from which is suspended by a ring a fifth similar element but in the shape of a pear. The fact that this element can move, or badine, is what gives this cross its name. There are two pear-shaped elements attached to the intersection of the arms on the top of the cross and two similar pendants attached by rings on the bottom of the cross. According to Michel Yvon, these crosses "were sold at the fair of Beaucaire and in Avignon."

gold badine cross from the Tarn with its slide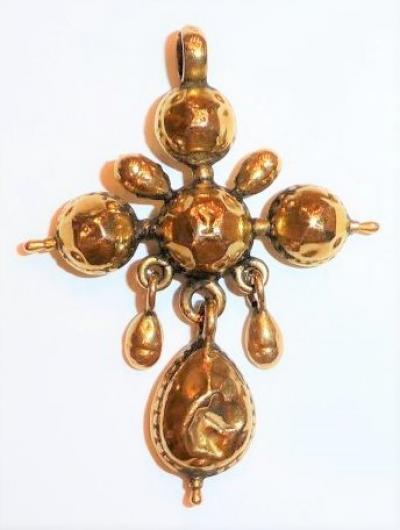 gold badine cross from the Tarn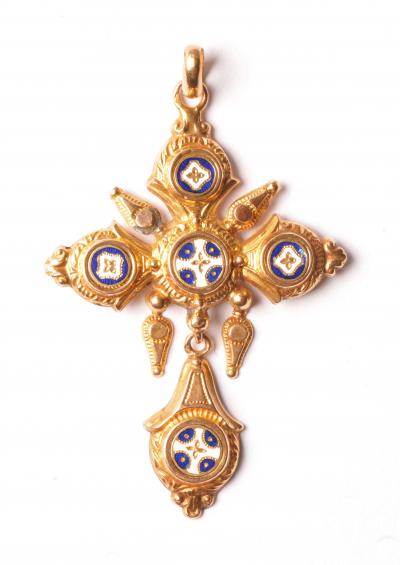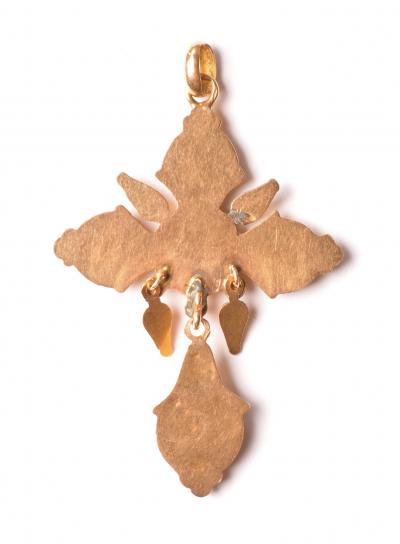 gold and enamelled badine cross from the Tarn
The chatelaine
The most distinctive piece of jewellery in the Poitou - Charentes region is the silver chatelaine which women wore on their skirts. Chatelaines are known as claviers (lou clavié) in Provence, chatelaines in Alsace and crochets in Poitou-Charentes and the Pays de la Loire. Some authors thought they had identified chatelaines set with rhinestones in Normandy however these are in fact, at least originally before transformation, busquières (see section Normandy). Chatelaines are formed of a length of metal more or less decorated and often engraved and pierced, then bent back on itself with a spatula-shaped segment to hang on the inside of the skirt. They are generally used to suspend a pair of scissors on two chains, sometimes a key and, according to Lionel Bonnemère, a punch used to kill poultry was suspended in Poitou.

There are differences in the shapes of the chatelaines according to the regions. In the south, there is a special type which has at the top a door-knocker shaped ring which opens with a silver screw. This ring was used to hang keys, leaving the chains free for a pair of scissors. There are also chatelaines in the south where the simple chains are split by a separator with a design matching that of the hook. Niort was an important centre of manufacture of chatelaines in the 19th century and there are chatelaines from Niort to be found throughout the southern half of France, most of which were manufactured between 1815 and 1880.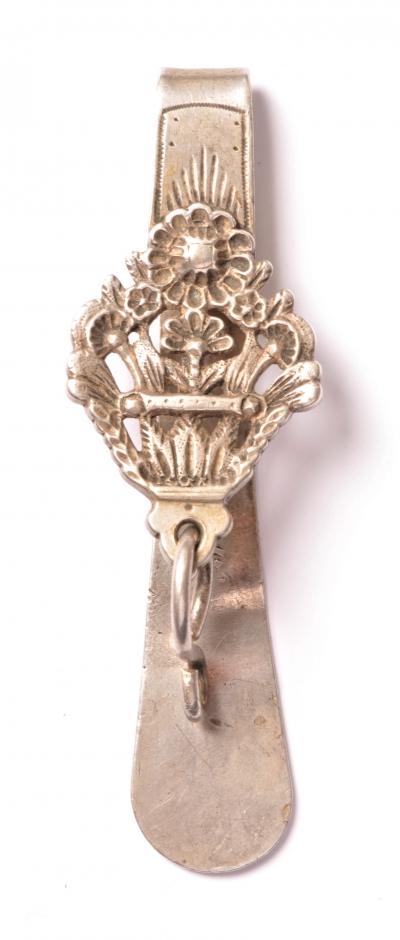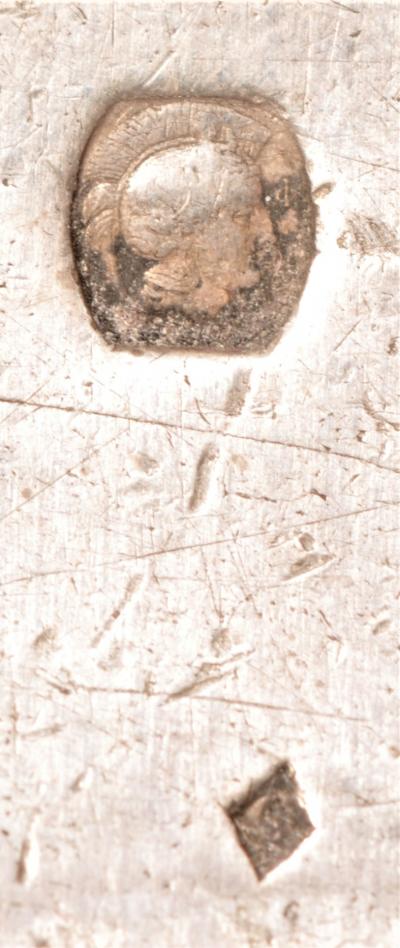 Silver belt clip or chatelaine with hallmark from Nîmes


Silvrt
Silver belt clip with design of a hand holding a laurel wreath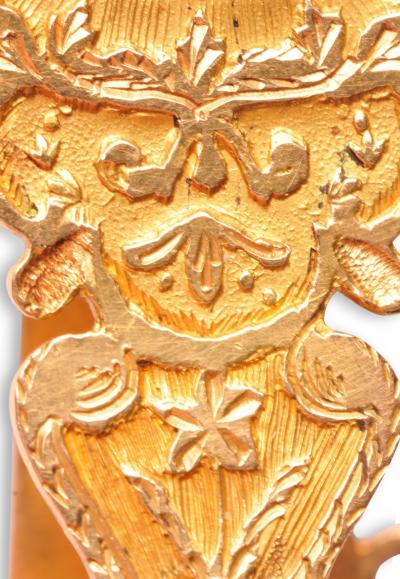 large clavier entirely hand-engraved
note the extra loop on the back part used to securely attach it to the skirt with a few stitches
Two silver belt-clips or chatelaines from the Nîmes area, one decorated with two burning hearts on an altar, pierced by an arrow, the other with a basket of flowers

Cévenole heart pendant in silver filigree with three trissous drops
Contact me with your suggestions, corrections, photos, questions and comments!
croix Badine ancienne - bijoux régionaux - bijou régional - bijoux en grenats - bijoux des régions de France - les bijoux traditionnels français - boucles d'oreilles grenat - bague grenat – le grenat de Perpignan - French regional jewellery – jewelry - French traditional jewellery – jewelry - French folk-dress - French folk costumes - antique French jewellery - les bijoux de France - les bijoux des Français- antieke zeeuwse streeksieraden in zeeland friesland - Brabantse klederdrachten en streeksieraden