French traditional jewellery - Normandy
Other jewellery and iconographie
Coiffe pins
Each region, town or even village had its own distinctive costume for the women and between 1800 and 1830 a great variety of coiffes (lace head-dresses) appeared. The coiffes were usually attached by two pins, sometimes three or four for the larger coiffes.

Note that in the case of pairs of pins, the two were rarely identical, often a larger and more decorative pin was worn at the front and a simpler one behind or underneath the coiffe. The pins were sometimes attached together with a fine chain. (Pairs of pins were not always for attaching coiffes; some were worn by men to fix their neckties).

Larger pins were also sometimes worn to hold closed the shawl or "fichu" worn by women, though in later years, after around 1850, a more traditional and less fragile brooch was used.

Coiffe pins adorned with a faceted spherical head are the most common in Normandy, followed by those with an enamelled pansy motif.

coiffe pin in gold and
Bressan enamel


coiffe pin in gold and
enamel (some missing)


coiffe pin in gold and
enamel with clock-face
motif

pair of coiffe pins in gold
and blue glass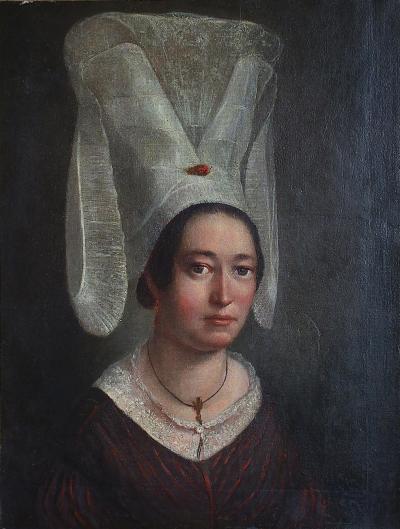 coiffe pin and Holy Spirit pendant, portrait circa 1830


coiffe pin in gold and
Bressan enamel
(a leaf missing)

coiffe pin in gold and
enamel




rare pair of mourning jewellery coiffe pins
from Normandy, in gold, enamel and pearls.
There are three glass windows in each pin-head
behind which is placed twists of hair


close-up of pin-head showing hair
behind the window


(click on the photo to enlarge)
Dieppe ivory work
The town of Dieppe was famous in the 19th century for its ivory carving industry, the craftsmen there were second to none. Jewels in ivory were worn in Dieppe but also bought by visitors as well as being exported and today one finds them all over France.




finely worked cross in
Dieppe ivory with ivy motif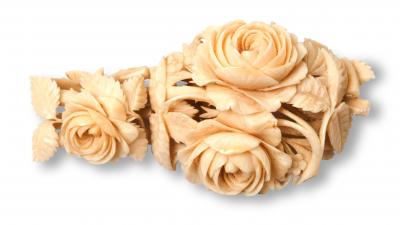 bracelet in carved ivory from Dieppe, rose design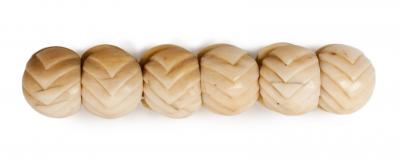 bracelet en ivoire de Dieppe, art déco
| | | | |
| --- | --- | --- | --- |
| ivory brooch from Dieppe | | | ivory brooch from Dieppe |
Earrings and ear pendants
For a long time earrings were not worn in Normandy because women's ears were hidden inside their coiffe. When the shape of the coiffe permitted it, women chose quite long earrings, either the "poissardes", or articulated ear pendants. The articulated earrings had an advantage in that the large pendant could be removed or added depending on the occasion, and the small section could be left in the ears at night without risk of damage.
Silver cape clips - agrafe de capot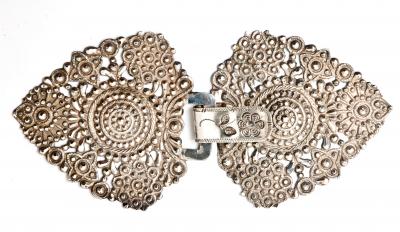 cape clasp, silver, Normandy, 19th century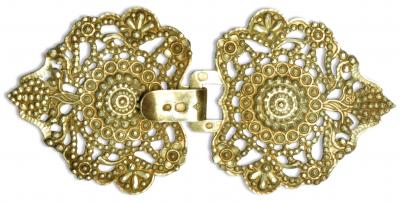 cape clasp, silver, Normandy, 19th century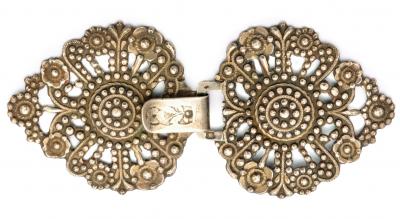 cape clasp, silver, Normandy, 19th century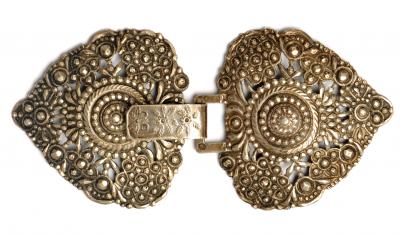 cape clasp, stamped silver, Normandy, 19th century, front view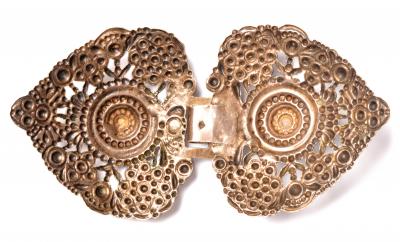 cape clasp, stamped silver, Normandy, 19th century, back view
Rings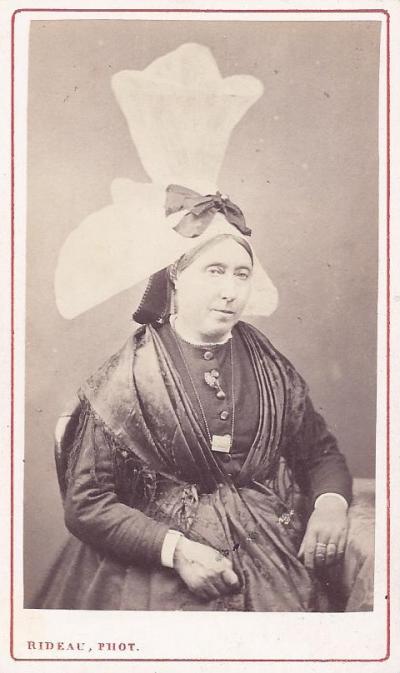 chain with large pansy catch, pansy brooch
click on the photos to enlarge them in high resolution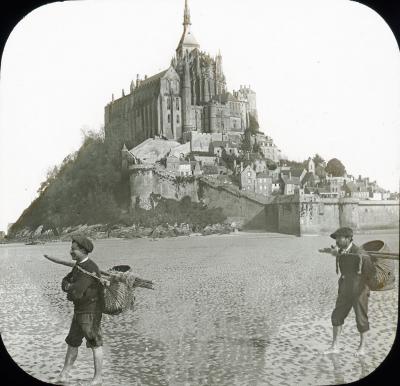 Shellfish gatherers at Saint Michael's mount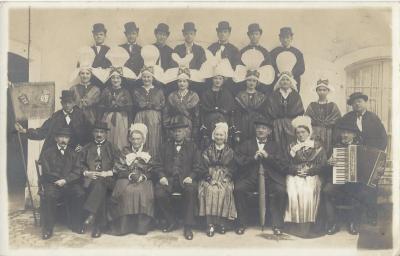 folklore groupe with coiffes, costumes and jewellery from Normandy

French traditional jewellery
Cauchoise from Bolbec, Normandy

French regional jewellery,
costume and coiffe, Normandy

French regional jewellery,
esclavage necklace and coiffe, Normandy

costume of the bourgeoisie from the Auge region
Saint Lô cross


costume of the rural bourgeoisie from southern
Normandy, around 1840

French regional jewelley,
costumes and coiffes, Normandy
Series of hand-coloured engravings on the costumes and coiffes of Normandy,
by Louis-Marie Lanté , based on drawings made by Laurent Pêcheux in 1811
and by Georges-Jacques Gatine in 1819, published in 1827
In 1828, Amande-Narcisse MASSON de Saint Amand, in his book relating his voyage in Normandy, laments the quasi-disappearance of the splendid coiffes of Normany, replaced by city clothes. (4)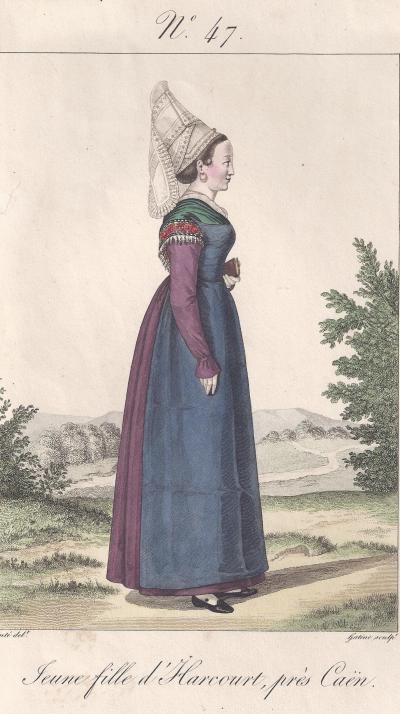 French regional costume and coiffe - Harcourt - engraving by Lanté and Gatine, drawn 1819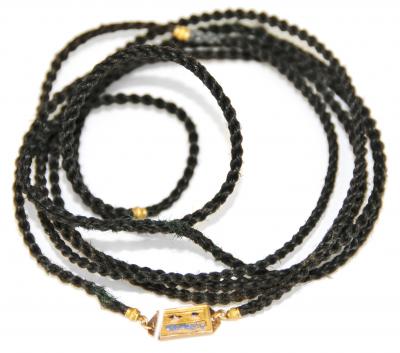 chain of tressed horsehair with gold catch, similar to the chain illustrated above